Register Below...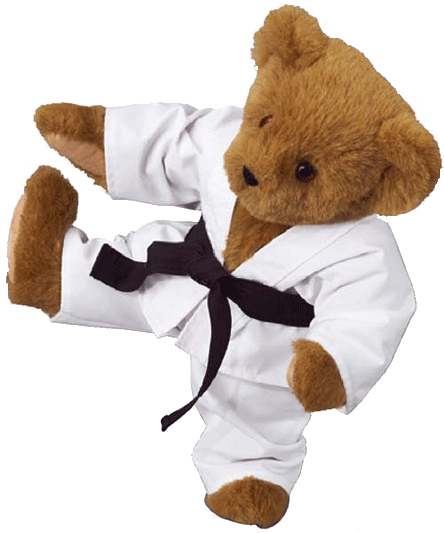 Come and enjoy a fun day of Karate with your Teddy Bear (or your favorite Stuffed Animal)

Saturday, February 23, 2019

Doors open at 10:00AM, Class Begins at 10:15AM
Stations will continue around the room until 11:30AM.
Located at Martial Arts America 300 S. Koeller ST. Oshkosh, WI 54902 (Behind the movie theater)

Please bring along 1 of your FAVORITE STUFFED ANIMALS!

We will be teaching a 30 minute karate class to students and guests ages 4-12. The Karate Instructors will teach the kids the karate moves and then the kids can help their stuffed animals learn the techniques as well.

This class is all about letting younger children use their imagination at the same time that they are learning valuable life skills like respect, focus, confidence, integrity and perseverance. The class is also about helping children become "EMPOWERED". You will watch your child's confidence grow when they become leaders to their stuffed animals and teach them the karate traits. The best way to build confidence is to help children see their value!

Following the class there will be stations set up around the room where kids can interact with their stuffed animals while learning karate skills. For example, if the kids can teach their Teddy Bears to Bow, then their bears can earn a white belt (Station 1). If the kids can teach their Teddy Bears to say "yes sir, or yes ma'am" like we will do during the karate class, then the Teddy Bears can earn a stripe on their belt (station 2). We will have a number of different stations where both the kids and the stuffed animals can demonstrate, learn and earn a cool karate reward.

You do not have to be a member of Martial Arts America to attend!

It doesn't matter if you belong to Martial Arts America, or if this will be your first time attending. All students and guests are welcome!

This class is appropriate for children ages 4 - ??? After reading the class description you will know if your child will enjoy it. We know there may be some 3 year olds that come along with their sibling to watch, but really want to participate... If this is the case, we ask that parents come out on the floor during the karate lesson to assist the younger child.

We look forward to seeing you at the Class!

Please Register Below!